Wet Underfloor Heating Systems
Are you thinking about installing a wet underfloor heating system into your property? Alternatively are you a contractor, specifier or installer that is looking for a wet underfloor heating system for your client? Then look no further than Underfloor Store; we are an online retailer specialising in underfloor heating systems and accessories. To view our full range of products from some of the industry's biggest suppliers including Warmus, Heatmiser, Uponor, Danfuss and Polypipe visit Underfloor Store today.

Water-based Underfloor Heating Systems
A wet underfloor heating system works by using a series of pipes connected to a boiler via a manifold. The system then circulates warm water throughout the floor to heat the space. Because underfloor heating systems covers a larger area than a radiator the heat emitted is more evenly distributed and can use a lower temperature, making the system more efficient than standard heating methods.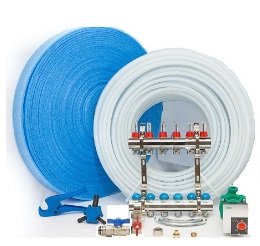 Wet Underfloor Heating Installation
A wet underfloor heating system can be installed onto any type of floor, although generally associated with stone, tiled or wooden floors, it can be installed onto carpet floors however a tog of 2.5 or less is recommended to ensure the heat is still able to move upwards.
Due to the installation process of wet underfloor heating systems they are usually best suited for new builds and extensions, although it is possible to retro-fit into existing properties. Additionally, because the system uses water, as opposed to electricity, it can be linked to virtually any heat source, from conventional heating sources such as a boiler, to newer more sustainable energy sources such as solar thermal energy or heat pumps.
Wet Underfloor Heating Systems at Underfloor Store
Here at Underfloor Store we offer a huge range of water underfloor heating systems, including wet underfloor heating kits, accessories, pipe, manifolds and spares, all at a great prices, with products to suit every budget and requirement.
If you are looking for a quick and easy installation of a wet underfloor heating system then we offer a range of kits allowing for fast installation.
Wet Underfloor Heating Kits
Our wet underfloor heating kits are supplied with all the high quality components and controls you will require for installation of your new water-based underfloor heating system. Our kits are available in three floor types:
Each individual underfloor kit is available in a range of sizes and configuration to best suit your project and budget. To learn more about our wet underfloor heating kits visit Underfloor Store today.
What is the Cost of a Wet Underfloor Heating System?
Wet underfloor heating is a highly cost effective heating system to run as it requires less energy than a conventional heating system. Because wet underfloor heating emits enough energy to bring a room to a comfortable temperature at flow temperatures of 30-40 degrees which is significantly less than the temperatures required to heat radiators which require temperatures of 60-70 degrees, it considerably reduced the amount of energy required to run the system. The reason for this is because hydronic systems spread heat evenly through the floor surface and emit radiant heating through the objects in the room.
The other cost to consider of a wet underfloor heating system is the installation which can be more expensive than dry underfloor heating systems due to the process of retro-fitting the system into a property and the complexity of the system, however the running cost of a dry underfloor system is significantly higher than that of a wet underfloor heating system.
Purchase your Wet Underfloor Heating System
For more information or to purchase your wet underfloor heating systems visit Underfloor Store.