Uponor Smatrix
Smatrix is easy to install, set up and maintain. The intelligent modular system offers invaluable benefits for everyone. Smatrix is the most comfortable way to save energy and costs in your home – and at the same time improve individual comfort. Smatrix is ideal for specification because it offers a fully integrated and easily expandable system with outstanding service before and after installation. Less wiring and easy setup on installation save time and money. And there is no need for time-consuming commissioning anymore. Distributors can be sure that the complete, integrated Smatrix portfolio is a perfect fit for installers' and householders' needs.
If it's the 24v system and the installation is 4 core cable wired, you can use the Smatrix Base range, If the system isn't 4 core cable, the Smatrix Base or Uponor Smatrix Wave/Wave Plus range is where you would need to look.

The control box can handle 8 actuators and 6 stats, any more than that and you require a slave unit as well.
Features of Uponor Smatrix:
- Easy to install: Less wiring – or completely wireless
- Easy to use:
- Intelligent algorithms optimise the system automatically and constantly for both wired and wireless controls
- Easy to control: Optimum energy output for individual comfort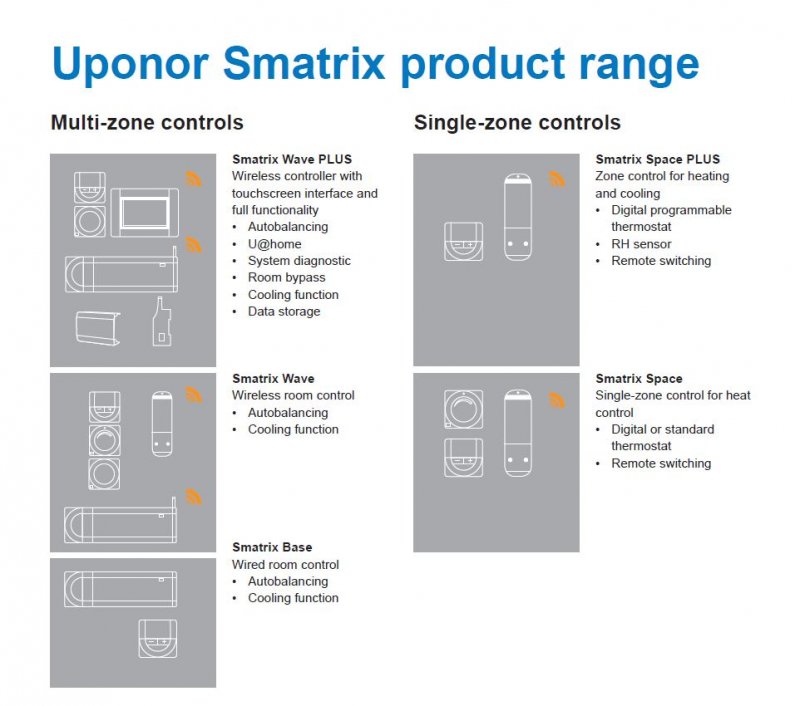 Auto-balancing constantly monitors changes in conditions inside and outside the building. By intelligently adjusting and adapting, Uponor Smatrix ensures that just the right amount of energy is used at just the right time. This is a manual process that needs later adjustment to suit the actual building and occupiers preferences - a time-consuming trial and error procedure. Auto-balancing not only eliminates this initial commisioning adjustment - periodically the system optimises the circuit of each room, continuously calculating the energy required for your comfort. Even if you change floor coverings, auto-balancing will adapt automatically to ensure the right comfort levels with the most efficient energy use.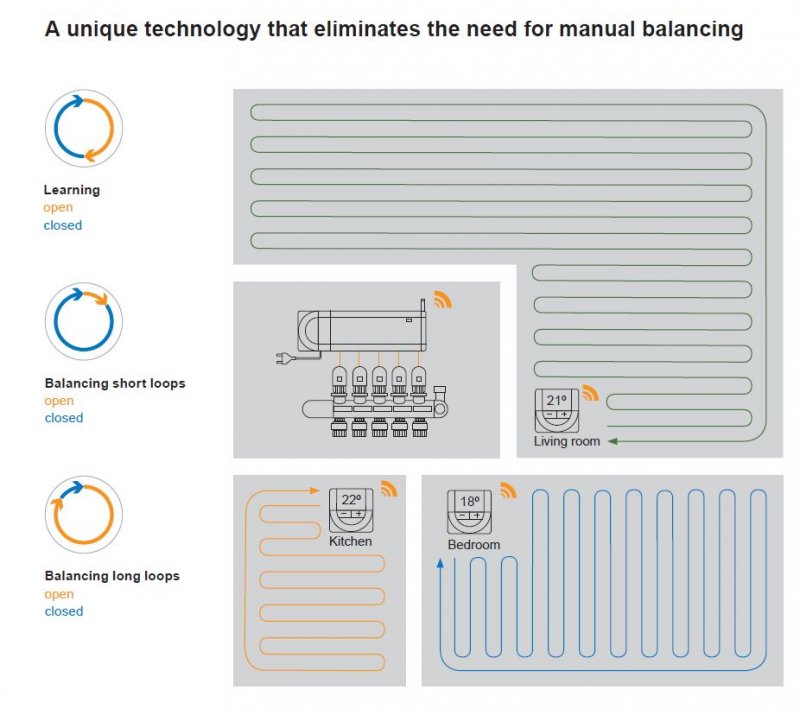 Smatrix easily adapts to existing installations. It even balances older systems automatically – improving room comfort and maximising efficiency. Due to robust radio communication, the installation process is perfect for renovation. Of course, Smatrix also reduces the installation time in new buildings. Extra flexibility is provided by the modular system architecture, which allows you to add functionalities or outputs when needed – and not before. With the U@home Module you are able to manage the indoor climate from anywhere – via app or web. If you're away for longer than expected, you can save energy and money by remotely adjusting the system to extend Eco settings